Minerals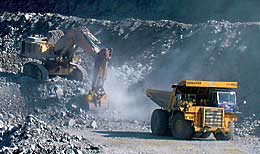 Mineral processing is being improved by the use of real time process control solutions. At Scantech, we partner with our clients to understand their process challenges, provide innovative process monitoring and control solutions, and consistently deliver improved performance, value and productivity.
Whether at the mine site, at the treatment plant or at the smelter, Scantech offers solutions that aid the blending, handling and monitoring of various minerals, ores and products.
Metal accounting is an application where real time analysis of conveyed materials has proved invaluable.
Process control technology has undergone an amazing revolution in recent years, chiefly because of Prompt Gamma Neutron Activation Analysis (PGNAA) technology. Enabled by enhanced electronic digitisation, PGNAA has led to a new era in process control. Scantech, with its world class research facilities, is an acknowledged leader in this field.
The key to our success is understanding how our customers can best use our process control solutions and how those solutions can be easily and quickly integrated into each individual plant to ensure maximum return on investment.
We are already involved with many exciting projects in different industries and we are actively exploring further opportunities in new industries. So whatever your quality control requirements, our real time process solutions save you time, money and frustration by removing the burden and contraints of traditional sampling systems and laboratory analyses.
Related Products
"Operators who seek out the latest technologies to increase efficiency and improve their product will not only see a better bottom line, but will also achieve greater social recognition"
Gordon Cope, World Coal, December 2014